Improving quality of life for all

__________________________________
KARRN in National Institutes of Health Executive Summary
Pat Kitzman participated in NIH's "Rehabilitation Res
earch at NIH: Moving the Field Forward" conference in May 2016, and the Executive Summary has been released. KARRN's work is highlighted in the report's section entitled "Understanding the Context: Environmental Impacts in Rehabilitation" (on the 4th page of this document).
__________________________________
NeuroRestorative's Brain Injury Support Group meets March 29
NeuroRestorative offers support groups every other month in Lexington. Services are also available in four other Kentucky locations : Georgetown, Ashland, Louisville and Paducah. 
__________________________________
Asset Development Summit for Individuals with Disabilities –
Hazard KY on Thursday, May 11
The Summit will bring together members of the asset building community and the disability community in Southeastern Kentucky to build a framework on how the two communities can work together to develop programs that stimulate economic self-sufficiency for individuals with disabilities. The Summit will be held from 9:30 AM to 3:15 PM Eastern Time  at the Hazard Career Center, 412 Roy Campbell Drive.
The Summit will explore how to increase access to asset building tools by individuals with disabilities. Those tools include financial literacy training, credit counseling, individual development accounts, tax preparation assistance, low interest loan programs, among others services.  Individuals with disabilities represent a largely untapped market for financial institutions. Services to this population provide an excellent opportunity for community reinvestment.
Please register for the summit online as soon as possible (if you have not already) at https://www.surveymonkey.com/r/HazardAsset
__________________________________
Archived presentation:
Beth Hunter and Pat Kitzman were guest speakers recently in UK's Human Development Institute's Seminar Series. They spoke about KARRN's history and its many projects that have developed. View here:
__________________________________
New publication from KARRN members Danzl, Hunter and Harrison
Congratulations to KARRN authors Megan Danzl, Beth Hunter and Anne Harrison. Their article, "Interprofessional Qualitative Research Teams: The Experience of Stroke for Rural Individuals" was recently published in
and examines the research team's approach to working with stroke patients and caregivers in Appalachian Kentucky.  Click here for the article
__________________________________
KARRN's Mission Statement
Following our discussions at December's mini-retreat, KARRN has arrived at the following, updated mission statement:  A collaborative team that advocates to empower communities impacted by disability
 It was also decided that this brief tagline would be an easy, quick explanation of what we do: Improving quality of life for all
Go team!
__________________________________
Events, events, events!
Please see all of the upcoming work groups, support groups, meetings and conferences in our Events menu. KARRN partners, let us publicize your group's events – just contact Julie with the details.
__________________________________
Hazard's Local News Features Our Patient-Centered Work Group
On January 24, we held our first work group in Hazard (see the following post for details). We appreciate the efforts of local newspaper and television to spread the word!
See Hazard Herald newspaper article
________________________________________

For the past 9 years the Kentucky Appalachian Rural Rehabilitation Network (KARRN) has worked to improve the health and healthcare for people with spinal cord injury (SCI), stroke, and brain injury (TBI) living in rural Kentucky through education, advocacy, research, and resources development. We have seen our community members and partners with SCI, stroke or TBI, encounter many health and healthcare related barriers which can make it hard to get the care needed and to make good health choices.
Our current project is focused on finding out what health information people with SCI, TBI and stroke need to make their health and healthcare decisions and where do they go for this information. We want to work with community members and have them participate, as team members, in developing research questions that they feel are important for improving their healthcare decision making and their quality of life at home.
We would really appreciate your help and would like to hear about your experiences and thoughts. At this time we are setting up small group meetings that would take no more than 2 hours of your time. The meetings will take place at a variety of places so hopefully one will be near you. As a thanks for time and effort we will be giving $20 gift cards to the people who take part in the group meeting. If you would like to learn more about sharing your experience related to living in a rural town and living with SCI, TBI or stroke you can contact:  Keisha Hudson at 606-439-3557 x 83452 or keisha.hudson@uky.edu;  Beth Hunter at eghunt2@uky.edu  or 859-218-0194; or Patrick Kitzman at phkitz1@uky.edu or 859-218-0580.
________________________________________
KARRN thanks you for a great year!
Have a wonderful holiday season, and best wishes to you for the new year!
Due to the University of Kentucky's holiday break, the KARRN office will be closed from December 26 through January 2. We look forward to reconnecting with you in 2017! If you need assistance, please email us.
________________________________________
KARRN Conference to be held Tuesday, August 29, 2017
SAVE THE DATE!
________________________________________
We welcome Jarod Giger to KARRN
Dr. Giger is an Assistant Professor in UK's College of Social Work, with additional appointments in Gerontology and the Center for Health Services Research. His research interests are wellbeing across the lifetime; adoption of technology; and patient activation. In the past, he has worked with Native American population
s. He will attend the 2016 Annual Scientific Meeting of the Gerontological Society of America this month to present results from his research project entitled "Measuring Change in Life Satisfaction Following an iPad Intervention." Together with his colleagues at University of Kentucky and University of South Dakota, Vermillion, he found that "iPad interventions may be able to stabilize life satisfaction in older adults, [and] mitigate decreases in satisfaction by fostering social interactions via community-based technology-based educational forums."
His introduction of technology to new populations along with his interest in patient activation (encouraging patients to become active participants in their health care and self-management) are of great interest to KARRN as we continue our research, service and education efforts for our populations.
________________________________________
Brava! Another award for KARRN member Fran Feltner!
We were pleased to see another much-deserved recognition given to Fran Feltner recently: The 2016 MediStar Award.  Click here to read article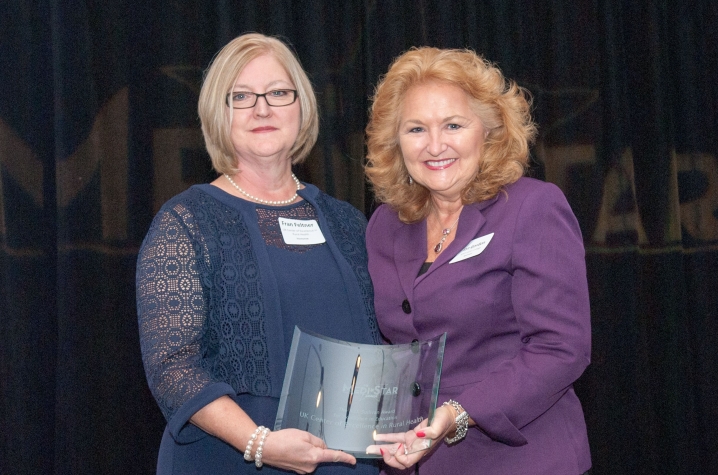 ________________________________________
Challenged Athletes Foundation's Access for Athletes Grant Application due date December 2
   This funding opportunity states that "Expensive equipment or training shouldn't be the biggest hurdle athletes face in their endeavors. Access for Athletes is committed to helping athletes overco
me financial impediments by providing funding grants for equipment, training, coaching and competition costs."
For details and application, click here

_____________________________________Foundation for a Healthy Kentucky publishes its 2016 Kentucky Health Coalitions Directory
Beginning in 2011, the Foundation for a Healthy Kentucky undertook an effort to identify community coalitions, collectives, collaborations, groups, networks and partnerships working to improve the health of the citizens of Kentucky. We were interested in organized and semi-organized groups of concerned citizens working to make Kentucky a healthier place to live, work, and play.
The purpose of this effort and the resulting directory, now in its third iteration, is to foster collaboration, build local capacity, provide technical assistance, promote the Foundation's funding opportunities, and celebrate successes.
This is a 119-page Document divided into county-level alliances.
________________________________________
December 2: HDI Seminar "Establishing Trust: Developing Community Engaged Networks that Reach Underserved Rural Populations"
This seminar will be presented by Pat Kitzman and Beth Hunter on Friday 12/2/16 from 1:00-3:00. You can register to join them at UK's Coldstream campus in Lexington, online, or via videoconference. CEUs are available and more information can be found here.
________________________________________
Upcoming election – Accessibility at polling places
Just in time for elections on Tuesday, November 8, we just stumbled upon this nifty resource through Kentucky's State Board of Elections website. There are reports specific to your voting precinct through a county drop-down menu. The surveys summarize important information such as parking and sidewalk accessibility.
Here is an example for a random site – Madison Southern High School in Berea. The cover page sum
marizes that "this location appears to be very accessible for voters." The next 29 pages detail the ADA checklist with Yes/No answers indicated by surveyors.
________________________________________
Hakomi Mindfulness workshop for Healthcare Professionals
An upcomi
ng workshop in Berea "offers practical knowledge and dynamic exercises in mindfulness….Integrating mindfulness and Loving Kindness into everyday interactions as well as the therapeutic process, we create the optimum field for health and healing." This training on November 5-6 offers 12 NASW CE hours. Click here for registration information.
________________________________________
AIM! Advocacy + Inclusion on a Mission
AIM! Advocacy + Inclusion on a Mission is a disability education program. Most often, kindergarten through fifth-grad
e students experience AIM! through a week-long event that begins with a kick-off featuring speakers on a variety of disability-related subjects, and continuing through Common Core Content-aligned curriculum in the specials classes. Visit www.buildinclusion.org for more information!
Volunteers are needed on October 10 and November 18 at the following schools:
Academy of Leadership at Millcreek Elementary  http://signup.com/go/FS1G69
Julius Marks Elementary School  http://signup.com/go/GVBb2A
Stonewall Elementary School  http://signup.com/go/VzaFTu
Mary Todd Elementary School http://signup.com/go/HGsKQ4
________________________________________
Sled hockey schedule (and other adaptive sports)
Cardinal Hill in Lexington has brought local sled hockey to our attention. You can participate from 2:30- 4:00 pm on the following dates:
December 11, 2016
December 18, 2016
January 8, 2017
January 22, 2017
February 12, 2017
Practices are at the Lexington Ice Center (BACK RINK) at 560 Eureka Springs Drive, Lexington KY 40517.
For more information, please contact Cindy Jacobelli at (859) 338-6310 or by email
Also click here for Cardinal Hill's other recreational/sports programs
________________________________________
What will Kentucky AgrAbility think of next?
AgrAbility is cosponsoring Growing Warriors' mushroom log workshop on O
ctober 29. There are limited registration spots available, so register now through our Events page. Come and learn the art of mushroom cultivation. Enjoy the relaxing rural setting of the Healing Ground Farm. Light refreshments will be served, including mushroom soup! Each attendee will go home with a mushroom log and take part in an inoculation workshop.
________________________________________
Kentucky Congress on Spinal Cord Injury has developed a Restaurant Accessibility Repo
rt Card. They encourage individuals with disabilities to share it with managers of restaurants that they visit. It covers areas such as parking, entering/exiting, and experiences while in the restaurant and has an easy scoring system. Visit the KCSCI facebook page for more information.
________________________________________
A great time was had by all! Thank you, Kentucky Congress on Spinal Cord Injury for your dynamic annual meeting. We received great information about voting, equipment, initiatives in rural Montana, restaurant accessibility, and much, much more.  Our University of Kentucky College of Health Sciences arranged for Hannah Davis Photography to be present. She brilliantly captured the warmth and enthusiasm of the day:
________________________________________

View the full Agenda for the 4th Annual Kentucky Congress on Spinal Cord Injury (KCSCI). It promises to be an action-packed, dynamic day! 
This free event will be on Thursday, September 15, 2016 from 9:00 a.m. to 4:00 p.m. at Cardinal Hill Rehabilitation Hospital in Lexington – "An Accessible Kentucky for all." It is not to be missed!
 Click here for the promotional flyer and for the link to register.
________________________________________
Heidi McKenzie's Alter Ur Ego Clothing Line in the News
KARRN member Heidi McKenzie was included in the June 2016 issue of Paralyzed Veterans of America, Inc.'s PN magazine. The "Fashion Forward" article draws attention to adaptive clothing, and Ms. McKenzie's adaptive jeans are promoted in the article. Congratulations, Heidi! Click here for the article.
For more information please go to: alterurego.co
or contact Heidi McKenzie, Founder of Alter UR Ego: heidi@alterurego.co
________________________________________
KARRN Member Fran Feltner Receives Public Health Award 
Please join us in congratulating our KARRN member Fran Feltner, of the Center of Excellence in Rural Health, for receiving the Paul Mason Memorial Award from the Kentucky Public Health Association. This annual award recognizes a Kentuckian who contributes toward benefiting our state's vulnerable populations. Her achievement was featured in UKNow, the University of Kentucky's daily news and public relations publication.
________________________________________
Podcast: Spinal Cord Injury Research with Sasha Rabchevsky
After a motorcycle accident left University of Kentucky researcher Sasha Rabchevsky paralyzed from the chest down at age 19, he pursued a career of discovery, as featured on UK Research Blog. Click below for the interview:
________________________________________
Stroke Navigation in the News!
Our Stroke Navigation program received some very positive press in the Hazard-Herald newspaper recently. The word is out about the success of Kentucky Care Coordination for Community Transition, and we're proud of our navigator, patients and caregivers for their work to improve outcomes following stroke.
________________________________________
Website Accessibility:   We have chosen a WordPress theme that has been rigorously reviewed as "Accessibility Ready." Additionally, The AT Bar will easily overlay our website (or any website) with assistive technology options (color and font size filters, audio capabilities, and others). Click on the bar to try it:
If you have additional accessibility improvements to suggest, please comment below. Thanks to our partner, Kentucky Office of Vocational Rehabilitation, for letting us know about the AT Bar!
________________________________________
KARRN and KY Congress on Spinal Cord Injury member (and overall Rock Star), Heidi McKenzie is launching her own line of fashionable, adaptable clothing. This adaptable jeans line is just the first of many designs she and her team are working on to combine both fashion and function for people in wheelchairs. She believes people with disabilities should look good and feel good too and her new company is working hard to make that happen.
For more information please go to:
alterurego.co
Connect to Heidi McKenzie, Founder of Alter UR Ego:
heidi@alterurego.co
________________________________________
Frances Hollis Brain Foundation Supports KARRN Project
We would like to thank the Frances Hollis Brain Foundation for recently funding a small KARRN grant that will allow us to purchase adaptive health equipment for individuals with disabilities in Appalachia.
________________________________________
Please follow the link to a new SCI resource handout:
"

Health Considerations in Spinal Cord Injury: A Handbook for People with SCI

"
, which was collaboratively developed by Dr. Sara Salles of the University of Kentucky, Dr. Michael Stillman of the University of Louisville, and Alison Smith of the University of Louisville.