Improving quality of life for all
__________________________________
KARRN Conference Recap & Supplemental Resources
The 8th ann
ual Kentucky Appalachian Rural Rehabilitation Network conference on August 29 from 9:00-5:00 at Eastern Kentucky University was well attended. We brought together 199 students, providers, and individuals and caregivers affected by stroke, spinal cord injury and traumatic brain injury.
As promised, our speakers have provided supplemental resources. CLICK HERE to view them.
A very special thank you to our sponsors:
Paralyzed Veterans of America Education Foundation (conference grant)
University of Kentucky College of Health Sciences
Eastern Kentucky University
Spinal Cord & Brain Injury Research Center (SCoBIRC)
Kentucky AgrAbility
Advanced Medical Group LLC
Much appreciation also goes to our speakers who generously provided their time and expertise: Jennifer Hastings, Don Helme, Beth Hunter, Patrick Kitzman, Jane Kleinert and our panelists: Jason Jones, Tonya and Mark Kincaid, Sasha Rabchevsky, Sara Salles, DO, Carolyn and Aaron Wallace.
To review the conference agenda and speaker information, click here.
Conference evaluation surveys have been emailed.
__________________________________
Kentucky Congress on Spinal Cord Injury Registration 
Please note that KCSCI 2017 will be on Friday, October 6. Please join us for a day packed full of topics like travel after a SCI, Wellness, Recreation and Advocacy, just to name a few. We will be providing both breakfast and lunch. Free t-shirts. Vendors with all kinds of products and services. The 2017 Tom Gravitt Advocacy Award.  It should be a great day. If you have a SCI or you are a family member, a person with a disability or advocate. Even if you are just curious.
Register for this FREE conference today.
https://docs.google.com/forms/d/1uONTULPm59YywFS830U89tFgBLWtjuZBtdgIJTtGOBM/edit
The detailed agenda and speaker information can be viewed by clicking here.
Along with free registration to the 5th annual KCSCI meeting, we have the distinction of presenting a film viewing session in the afternoon with the producer of "The Rebound," Mike Esposito, along with one of the star athletes in the film!
For quick info about the film, see this information sheet.
Also, KCSCI has a very active presence on Facebook – to join, search for "Kentucky Congress on Spinal Cord Injury."
__________________________________
Falls Prevention in Madison County
On September 22nd, the first day of Fall, a network of service providers will offer fall prevention expertise at the Falls Prevention Awareness Day Event. This interactive resource fair is designed to help those who wish to lower their risk of falling.
A free lunch will be provided by Arcadian Cove for those who preregister by Friday, September 15. Call the Madison Count Extension Office, 859–623-4072. Click here for the flyer.
__________________________________
Hazard Stroke Group Listed in National Registry
University of Kentucky's Center of Excellence in Rural Health details the benefits of Hazard's stroke support group. Recently, the group was added to the National Stroke Association's searchable, nationwide registry of support groups. The monthly support group is one of many services offered to stroke patients and caregivers by Kentucky Care Coordination for Community Transitions (KC3T). For more information, the full text of CERH's article is available by clicking here.
__________________________________
Epilepsy Foundation of Kentuckiana: Welcome to KARRN
Patrick Kitzman recently met with John Mustain, the Director of Veterans Outreach at the Epilepsy Foundation of Kentuckiana. This organization offers education programs, advocacy and support to people with epilepsy and their families. Operation Outreach is a program for veterans who have developed seizures following traumatic brain injury (TBI) and post-traumatic stress. KARRN is pleased to add the Epilepsy Foundation to our growing list of partners and collaborators – stop by their table at our KARRN conference!
__________________________________
"Bottom Dollars" Documentary in Somerset
Join Senator Rick Girdler for a FREE screening and panel discussion about "Bottom Dollars", an Original film about employment for all by Rooted in Rights.
"Bottom Dollars" is an hour-long documentary that exposes segregated workplaces and low wages often paid to people with disabilities. Through personal stories and expert interviews, the film presents a vision for better alternatives that promote community inclusion, equal opportunity, and fair wages.

When: July 27, 2017, 6:00 p.m.
Where: The Center for Rural Development, Somerset KY

Presented by:
The Commonwealth Council on Developmental Disabilities
Kentucky Protection and Advocacy
UK – Human Development Institute
__________________________________
2017 Bluegrass Area Laryngectomy Conference
Please save the date for the 2017 Bluegrass Area Laryngectomy Conference on Saturday September 16, 2017.
Course Description:  This intermediate level one-day course provides participants with a basic understanding of surgical management of laryngeal cancer, communication options after total laryngectomy, diagnosis and management of lymphedema, evaluation and treatment of dysphagia, and pulmonary rehabilitation post laryngectomy. Additionally, attendees will participate in hands-on and observational labs with patient volunteers. Areas addressed in the hands-on and observational labs will include:  tracheoesophageal voice prosthesis (TEP) troubleshooting skills, artificial larynx device selection and parameters for teaching functional communication, as well as tracheostoma management strategies, baseplate use, pulmonary rehabilitation via heat and moisture exchangers and use of hands-free devices.
To view the conference's Agenda, Program Objectives, Instructional Faculty, CEU information and Registration,  click here.
For registration information, please call Tammy Jo Edge at  859.218. 0493
For content information, please call Tammy Wigginton at 859.218.0471
__________________________________
Lexington TBI Support Group
 NeuroRestorative Lexington's next Traumatic Brain Injury Support Group is on Wednesday, July 26th. See below for additional information.  Feel free to invite others who may benefit from the group.
Please let Emmaly know if you have any questions.
__________________________________
Third Annual Appalachian Research Day Shares Results of Health Studies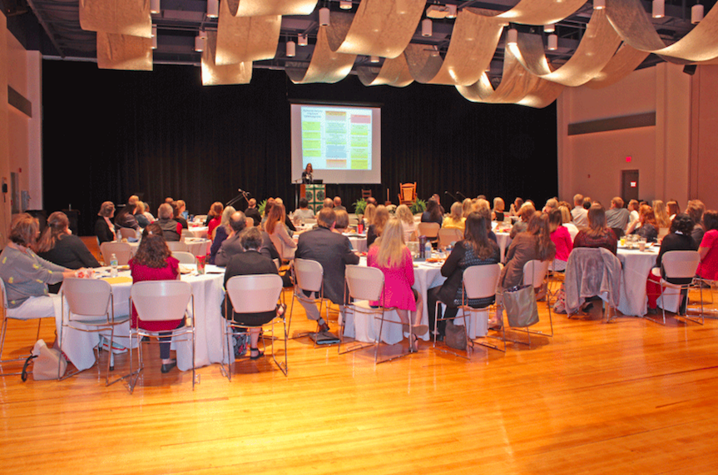 As reported in UKNow, the research event, held May 24 in Hazard, Ky., was hosted by the UK Center of Excellence in Rural Health as an opportunity for researchers and community members to share research findings with the local communities and facilitate dialogue about how to improve health and quality of life in Appalachia.
KARRN founding member Anne Harrison presented "Living with traumatic brain injury in a rural setting: supports and barriers across the continuum of care," which she co-authored with Beth Hunter, Heather Thomas, Paige Bordy, Erin Stokes and Patrick Kitzman. Traumatic brain injury (TBI) is prevalent in Kentucky and comes with a high cost in care and quality of life for individuals and caregivers affected. Research among people living with TBI in rural areas is limited.
The purpose of this study was to:
Explore the lived experience of people with TBI and caregivers in rural regions of Kentucky across the continuum of care
Understand supports and barriers they face related to optimal function and well-being.
CONCLUSION/RECOMMENDATIONS:
Unmet needs were most pervasive for people with TBI when returning to their underserved communities.

Inpatient care was adept in meeting medical and rehab needs, but communication across locations was lacking.
Unmet needs for caregivers existed across the continuum.
We propose trained community health navigators ally with patients and caregivers early in the process of TBI, and provide the linkages and education necessary to reduce barriers and facilitate transitions across the continuum of care.
KARRN member Jarod Giger presented "Child Wellbeing in Eastern Kentucky: A Kid's Perspective" at ARD. For those of us not able to attend, he has provided a summary of his study.
The purpose of this study was to: test the feasibility of a community-engaged, school-based children's subjective well-being survey to measure descriptive indicators of well-being in 3 Eastern Kentucky counties
PARTICIPANTS:
Knott, Letcher and Perry school districts
441 students ranging in age from 8-14 (average age was 11)
51% girls (n= 224) and 49% boys (n= 217)
CONCLUSIONS:

School-based, community-engaged research method of assessing KY children's subjective wellbeing (KYCSWeB) shows considerable promise
Data indicate relatively high levels of well-being but more comprehensive analyses are required
7th graders reported relatively high levels of eHealth literacy indicating school-based behavioral interventions technologies aimed at fortifying and enhancing well-being are worthy of consideration
Psychological well-being, a potentially modifiable concept, may serve as a protective strategy for children in Appalachian
WHY INVESTIGATE CHILDREN'S SUBJECTIVE WELL-BEING:
Children's perceptions of their own lives can create awareness among children, their parents and their communities, but also among opinion leaders, decision makers, professionals and the public
Awareness can lead to action at the child, family, community, county, state and federal level
__________________________________
National AgrAbility Conference
Our University of Kentucky AgrAbility staff attended the  annual meeting in Knoxville earlier this spring.                  
Materials are available from many of the sessions, and represent the great variety and depth of agricultural topic areas. You may view these materials at:  https://www.agrabilityntw.org/conference-materials

__________________________________
Hazard Stroke Support Group listed on national website
Keisha Hudson has registered the monthly support group on the National Stroke Association's website, www.stroke.org . This exposure will be beneficial as the group continues to thrive. New patients and caregivers can search for support groups in the H
azard area and find out how to connect to Kentucky Care Coordination for Community Transitions services. The national association has provided free resources and education to the stroke community for three decades. Thanks, Keisha, for spreading the word about your community activities in Hazard.
__________________________________
Health Partners group in Boone County
The Health and Wellness Initiative team at UK's Human Development Institute is excited to announce that we are now offering a FREE Health Partners group in Boone County in Northern Kentucky! Please disseminate this information and flyer (by email, Facebook, social media, newsletters, etc.) to any of your contacts in the area who might be interested in participating in this program or who may be able to disseminate this information to others. As a reminder, this is a free holistic health program for adults aged 16+ with a disability and a health partner of their choice such as a family member, caregiver, or other support person. For more information, watch: https://youtu.be/lrSTXV13k40
Location: Boone Co Cooperative Extension Office, 6028 Camp Ernst Rd. Burlington, KY 41005
Dates: August 1, 8, 15, 22, 29 and Sept 5 with 6 monthly follow-up meetings after initial programming
Time: 2:00-4:00pm OR 5:30-7:30pm (Choose which group works best)
Deadline to enroll is July 31. Please do not hesitate to contact HDI with questions or send participants their way. Thank you for your help in spreading the word!
__________________________________
Adaptive Sports Equipment Grants for Individuals
The Kelly Brush Foundation provides grants for individuals with paralysis to purchase adaptive sports equipment. We believe in the power of sport and recreation to foster inclusion and help develop confidence, independence and physical and mental strength, especially when experienced independently and on one's own terms.
Before applying, read the "Guidelines & Requirements" and "Frequently Asked Questions" for eligibility and process:  Guidelines & Requirements     FAQs
After reading the Guidelines, you're ready:   APPLY NOW
Fall Grant Cycle:
Application Open: Summer 2017
Application Deadline: September 30, 2017
Awards Announced: late October 2017
__________________________________
 Beth Hunter at NeuroRestorative group
Beth Hunter was invited to present to NeuroRestorative's Traumatic Brain Injury (TBI) Support Group on Wednesday, May 31. The group meets every other month and is open to TBI patients and their caregivers. NeuroRestorative provides rehabilitation, supported living, and numerous other programs in five locations in Kentucky.
NeuroRestorative was instrumental in recruiting participants from across Kentucky for our Patie
nt-Centered Outcomes Research Institute (PCORI) work groups earlier this year, and Dr. Hunter shared with the group some preliminary findings from the work groups. The TBI community expressed a need for access to resources (particularly navigating the waiver system) and improved communication with healthcare providers. The PCORI project will gather two larger groups in half-day meetings in September in Hazard and Lexington with the goal of developing practicable research questions from the topics generated during the project's work groups and earlier interviews.
__________________________________
United Spinal Association newsletter available
Click here for the latest newsletter, archived newsletters, and to subscribe to future announcements. The current issue has features on advocacy events, ALS Awareness Month, and a research opportunity. Great information!
__________________________________
Send letter to Congress on behalf of Amputee Coalition
From Jack Richmond, Amputee Coalition President and CEO; Amputee
As the President released his proposed budget, it became clear that program cuts to Medicaid and Social Security will pose challenges to many people affected by limb loss.
In addition, all funding was eliminated for the Amputee Coalition's National Limb Loss Resource Center, which connects people with peer support, provides education, and makes sure no one has to face amputation alone.
Make your voice heard now!
With dozens of vital programs on the line, we are asking you – and the nearly 2 million Americans living with limb loss that will be personally affected – to tell your legislator to make our community a priority.
With just a few minutes of your time, you can customize a letter and let congress know you want them to restore funding to the programs and services that the community turns to.
Thank you for your support,
Jack Richmond
President and CEO
Amputee
P.S.  Please ask our friends to turn up the volume by writing to their legislators, too.
__________________________________
KARRN Conference Agenda
We are busy planning for our annual conference (Tuesday, August 29 at Eastern Kentucky University). Our agenda is set, and it offers something for everyone. Attendance is free – we welcome individuals affected by stroke, spinal cord injury, traumatic brain injury; students; faculty; healthcare providers. There will be a small fee for CEU. Plan to come, and bring a friend! Please distribute our Save the Date flyer (attached). Registration information will be sent out later into the summer.
__________________________________
Save the Date: Kentucky Congress on Spinal Cord Injury 10/6/17
We are looking forward to the annual meeting of Congress. Click to see the KCSCI flyer for details, and we hope to see you in October!
__________________________________
Submit your nomination for the Tom Gravitt Advocacy Award
This award recognizes an individual who has had an exemplary effect on the SCI community and the Disability community at large. This year's award will be given at the Kentucky Congress on Spinal Cord Injury on October 6, 2017. The award is named aft
er Tom Gravitt, who obtained a SCI in his early twenties and fought tirelessly for almost 50 years as an advocate for all people with disabilities.

This award has been given to people who strive to enrich the lives of people with disabilities by being an advocate who fosters respect, access, and equal opportunities and enables all people to enjoy life's full range of benefits.
________________________________________
KARRN Conference to be held Tuesday, August 29, 2017
SAVE THE DATE!
________________________________________