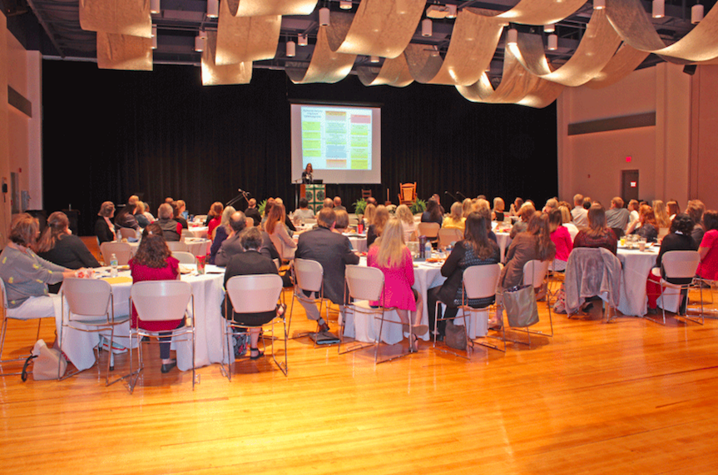 As reported in UKNow, the research event, held May 24 in Hazard, Ky., was hosted by the UK Center of Excellence in Rural Health as an opportunity for researchers and community members to share research findings with the local communities and facilitate dialogue about how to improve health and quality of life in Appalachia.
KARRN founding member Anne Harrison presented "Living with traumatic brain injury in a rural setting: supports and barriers across the continuum of care," which she co-authored with Beth Hunter, Heather Thomas, Paige Bordy, Erin Stokes and Patrick Kitzman. Traumatic brain injury (TBI) is prevalent in Kentucky and comes with a high cost in care and quality of life for individuals and caregivers affected. Research among people living with TBI in rural areas is limited.
The purpose of this study was to:
Explore the lived experience of people with TBI and caregivers in rural regions of Kentucky across the continuum of care
Understand supports and barriers they face related to optimal function and well-being.
CONCLUSION/RECOMMENDATIONS:
Unmet needs were most pervasive for people with TBI when returning to their underserved communities.

Inpatient care was adept in meeting medical and rehab needs, but communication across locations was lacking.
Unmet needs for caregivers existed across the continuum.
We propose trained community health navigators ally with patients and caregivers early in the process of TBI, and provide the linkages and education necessary to reduce barriers and facilitate transitions across the continuum of care.
KARRN member Jarod Giger presented "Child Wellbeing in Eastern Kentucky: A Kid's Perspective" at ARD. For those of us not able to attend, he has provided a summary of his study.
The purpose of this study was to: test the feasibility of a community-engaged, school-based children's subjective well-being survey to measure descriptive indicators of well-being in 3 Eastern Kentucky counties
PARTICIPANTS:
Knott, Letcher and Perry school districts
441 students ranging in age from 8-14 (average age was 11)
51% girls (n= 224) and 49% boys (n= 217)
CONCLUSIONS:

School-based, community-engaged research method of assessing KY children's subjective wellbeing (KYCSWeB) shows considerable promise
Data indicate relatively high levels of well-being but more comprehensive analyses are required
7th graders reported relatively high levels of eHealth literacy indicating school-based behavioral interventions technologies aimed at fortifying and enhancing well-being are worthy of consideration
Psychological well-being, a potentially modifiable concept, may serve as a protective strategy for children in Appalachian
WHY INVESTIGATE CHILDREN'S SUBJECTIVE WELL-BEING:
Children's perceptions of their own lives can create awareness among children, their parents and their communities, but also among opinion leaders, decision makers, professionals and the public
Awareness can lead to action at the child, family, community, county, state and federal level